Christian and his snack bars . . . Thanks to him, it seems like we have an endless supply of granola-y type bars around the house. But not the store-bought versions, like Cliff Bars or Lara Bars. With the amount we go through, we'd have to sublet our living room in order to afford enough. So instead we've taken to making our own versions of some of our favorite brands. Christian gets all the credit for this recipe, which is reminiscent of a Cliff Bar – crunchy, sweet, chewy, and packed with tons of flavorful and good for you nuts and seeds!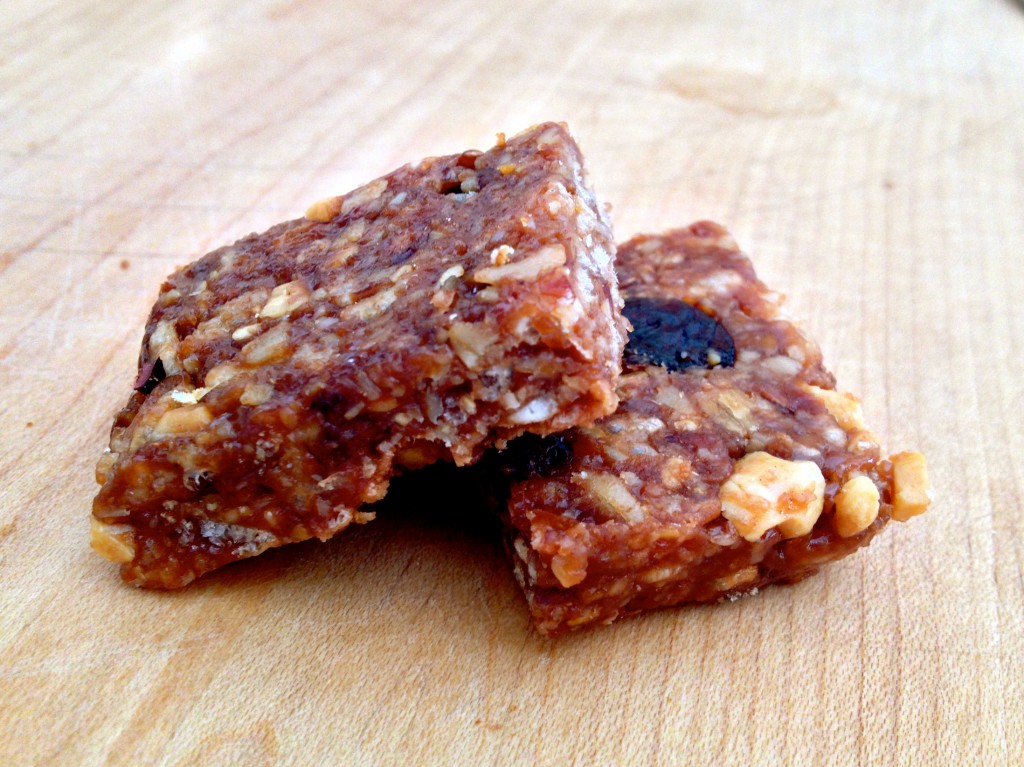 We use Nutella, but feel free to use only peanut butter or almond butter as a substitute. Although, these are most definitely the tastiest with Nutella!
—
Nutella Bars
Ingredients:
2 1/2 cups crisped rice cereal
2 cups uncooked rolled oats
1/4 cup flaxseed
1/2 cup dried cranberries
1/2 cup unsalted peanuts
1/4 cup cacao nibs
2/3 cup agave nectar or honey
1/3 cup chocolate hazelnut spread, like Nutella
2/3 cup smooth natural peanut butter (unsweetened and unsalted)
2 teaspoons vanilla extract
1 1/2 teaspoons ground cinnamon
Special Equipment:
food processor or blender
9″x13″ pan or half sheet baking pan
waxed paper
Steps:
In your food processor or blender, process separately the oats, flaxseeds, dried cranberries, and peanuts. Process them into small chunks, being careful not to over grind them into a powder – except for the flaxseed, which can be ground finely. Add each to a large bowl as you are done processing them.
To the bowl, add the crisp rice and the cacao nibs. Stir everything briefly to combine.
In a small pot, combine the agave nectar, peanut butter, and Nutella and heat over medium heat, stirring occasionally. Heat for a few minutes until melted and smooth and it just starts to bubble. Add the vanilla and cinnamon and stir to incorporate.
Pour the Nutella mixture over the rice/nut/fruit mixture and stir to coat everything. It will get really sticky so you may have to get in there with your hands, just be careful that the Nutella mixture isn't too hot to touch. Stir and mix everything until evenly coated.
Spray your pan with olive oil or vegetable oil to coat and immediately dump the whole mixture onto the pan. Using a sheet of wax paper and a flat-bottomed glass or bowl, press the mixture down firmly into the pan in one flat, even layer.
Let cool for at least an hour. Once cooled and set up, turn the pan over onto a cutting board to release the slab and slice bars into your desired shape and size. You can wrap up a few individually in plastic wrap for grab-and-go snacks or just keep them stacked neatly in a food safe container at room temperature.