In case you didn't know, we have a tradition here at Mission Kitchen called the Twelve Days of Christmas Cookies! Every year for Christmas we bake up dozens of dozens of cookies, package them up, and give them away to family and friends. While one might think that the Twelve Days of Christmas Cookies are twelve different cookies, every year we seem to add cookie or two and are unable to part with favorite recipes from years past. As a result, this year we're up to about 14 different kinds of cookies for our Twelve Days of Christmas Cookie boxes!
Here's one we include every year: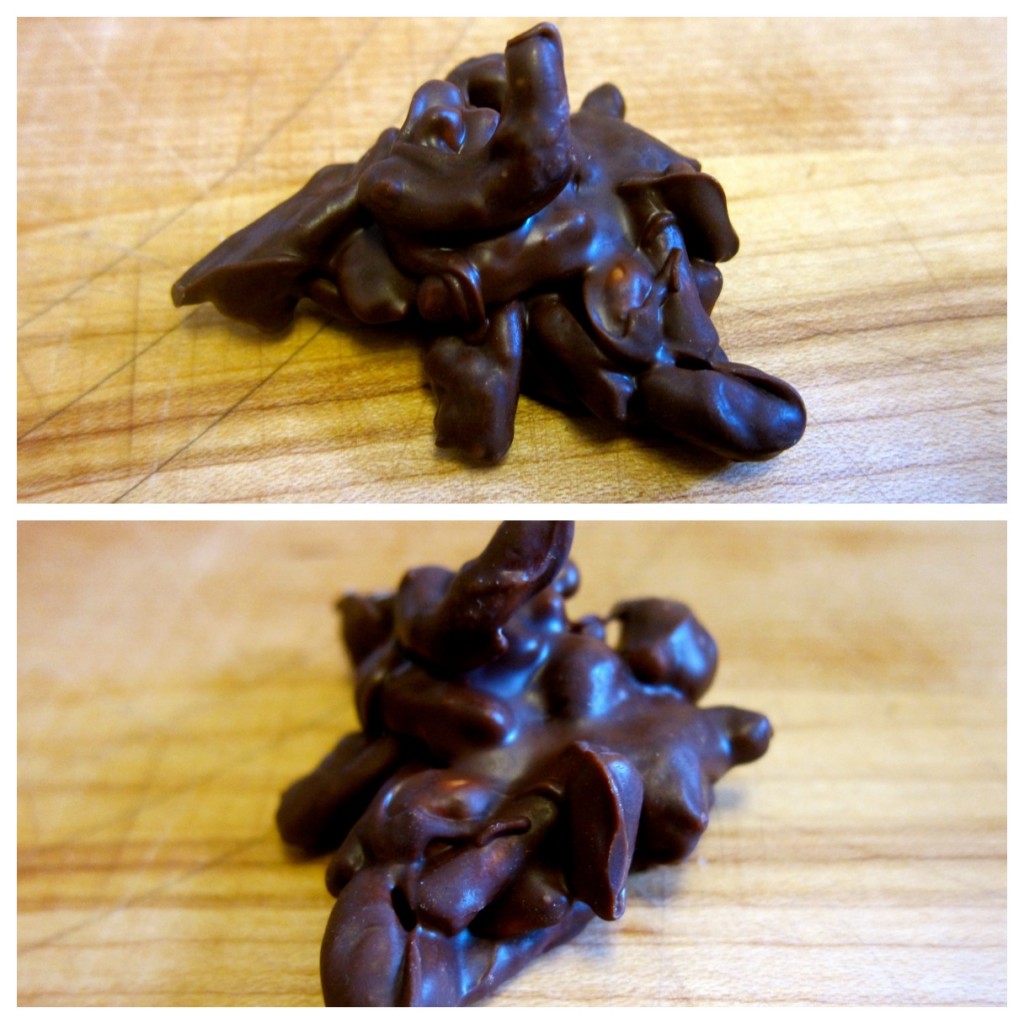 This cookie is one that's been a favorite of mine since childhood. My grandma used to make them every Christmas (to be included in her own version of the 12 Days of Christmas Cookies). They're sooooo easy, no real baking required! I've heard of other people calling them 'Bird's Nests', but in my family we always called them Ting-a-lings – it sounds more festive, no?
—
Ting-a-lings
Makes about 2 dozen.
Ingredients:
12 ounces dark chocolate chips
6 ounces butterscotch chips
1 cup salted peanuts (no skins)
2 cups chow-mein noodles (La Choy brand is easy to find)
Special Equipment:
Steps:
Prepare a double boiler by filling a small pot with about an inch or two of water. Set a heat-safe bowl over the pot, making sure the bottom of the bowl does not touch the water. Bring the pot to a boil, and then turn down to a simmer. You want the steam from the water to gently heat the bowl.
Put the chocolate and butter scotch chips in the bowl over the water and let melt, stirring every now and then. This should take about 5 – 10 minutes.
Meanwhile, in a large bowl combine the chow mein noodles and peanuts. Use your hands to break up the chow mein noodles a little.
Once the chocolate and butterscotch are melted and combined, pour over the noodles and peanuts. Stir just enough to coat, being careful not to break up the noodles too much.
Spoon tablespoon sized globs onto waxed paper and let cool and harden overnight.
These can be stored at room temperature in food-safe containers. It may help to put sheets of waxed paper between layers of Ting-a-lings to prevent them from sticking together.