When we first started our little backyard garden, we had just two small raised beds. With only enough room to plant a few things at a time, we went to the garden store and got six-packs of seedlings of just three vegetables: broccoli, kale, and spinach. We underestimated the amount of produce we would reap from such a modest first planting and quickly found ourselves with an abundance of green vegetables! We found many creative ways of using our first harvest, including making this soup!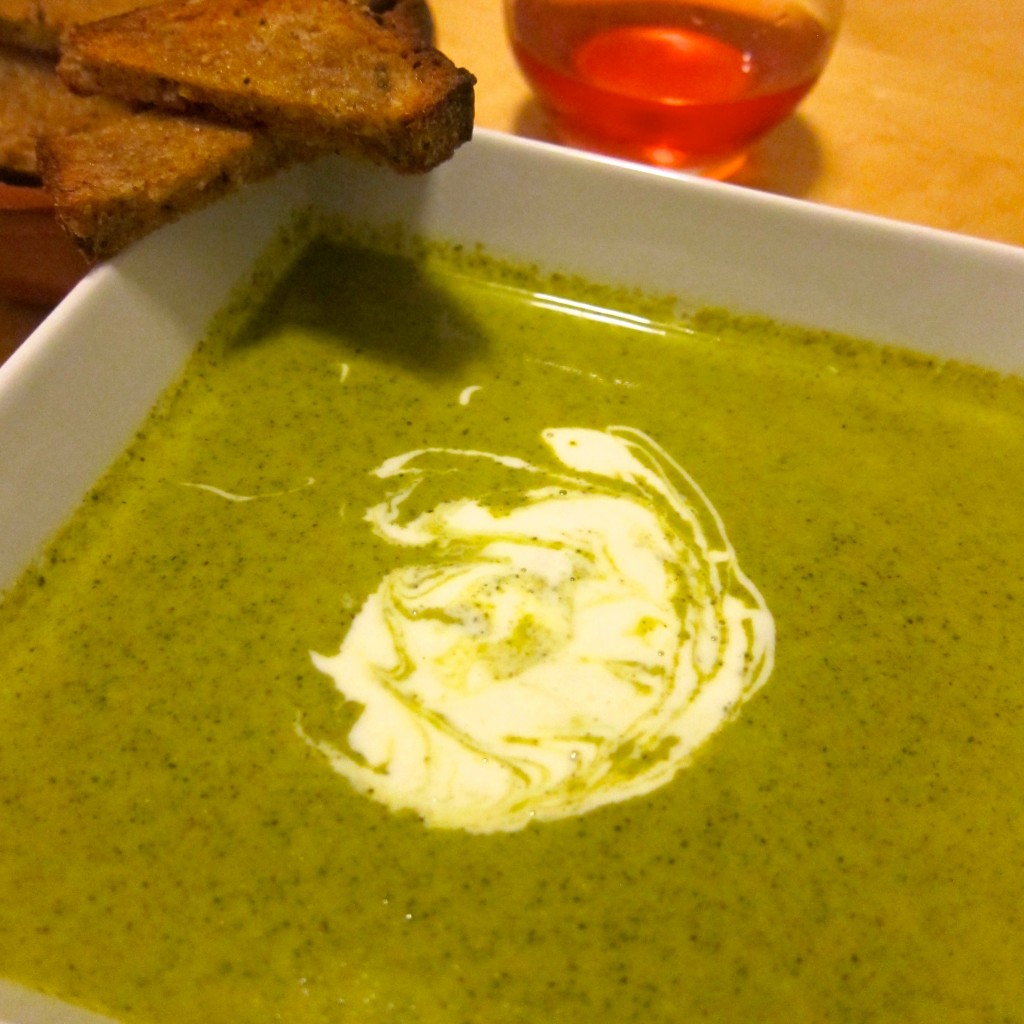 —
Broccoli, Kale, and Spinach Soup
Serves  4 -6.
Ingredients:
3 tablespoons extra virgin olive oil

2 tablespoons unsalted butter
1 medium yellow onion
1 bay leaf
1 carrot
4 cloves garlic
1/2 cup dry white wine
2 – 3 medium heads of broccoli
5 – 6 cups roughly chopped kale and/or spinach
3 tablespoons chopped fresh parsley
4 tablespoons chopped fresh chives
6 cups organic low-sodium vegetable stock
1/2 cup heavy cream
1 tablespoon lemon juice (1/2 lemon)
salt and freshly ground black pepper
crème fraîche or sour creme (to garnish)
Special Equipment:
blender, immersion or other
Steps:
Finely chop the onion, carrot, garlic, parsley, and chives. Roughly chop the broccoli heads and the kale and spinach.
In a large soup pot or dutch oven, heat the EVOO and butter over medium heat. Once butter is melted, add the onion, carrot, and bay leaf. Cook, stirring occasionally until the onions become translucent.
Add the garlic, cooking until the garlic becomes fragrant, but not browned. Add the kale and spinach and season with salt and pepper. Cook until the kale and spinach are just wilted.
Add the parsley and 2 tablespoons of chives stirring to incorporate. Pour in white wine and scrape the bottom of the pan to deglaze. Simmer for 2 -3 minutes.
Pour in the vegetable stock and all of the broccoli. Bring to a boil, then reduce heat and let simmer until the broccoli is tender.
Remove the bay leaf and carefully blend the soup in batches in a standing blender or directly in the pot with an immersion blender.
Return the pureed soup to the pot and bring to a simmer over low heat. Stir in the heavy cream, lemon juice and additional salt and pepper to taste if needed.
Serve and garnish bowls with a dollop of crème fraîche or sour cream and the remaining chives.