I never really used to like ginger or ginger ale. Maybe it's because the only time I ever had it growing up was when I was sick to my stomach accompanied by a plate of saltines . . . But I've since come to love the sharp bite of fresh ginger – not to mention the health benefits it has! It's great for aiding digestion, even when you're not sick.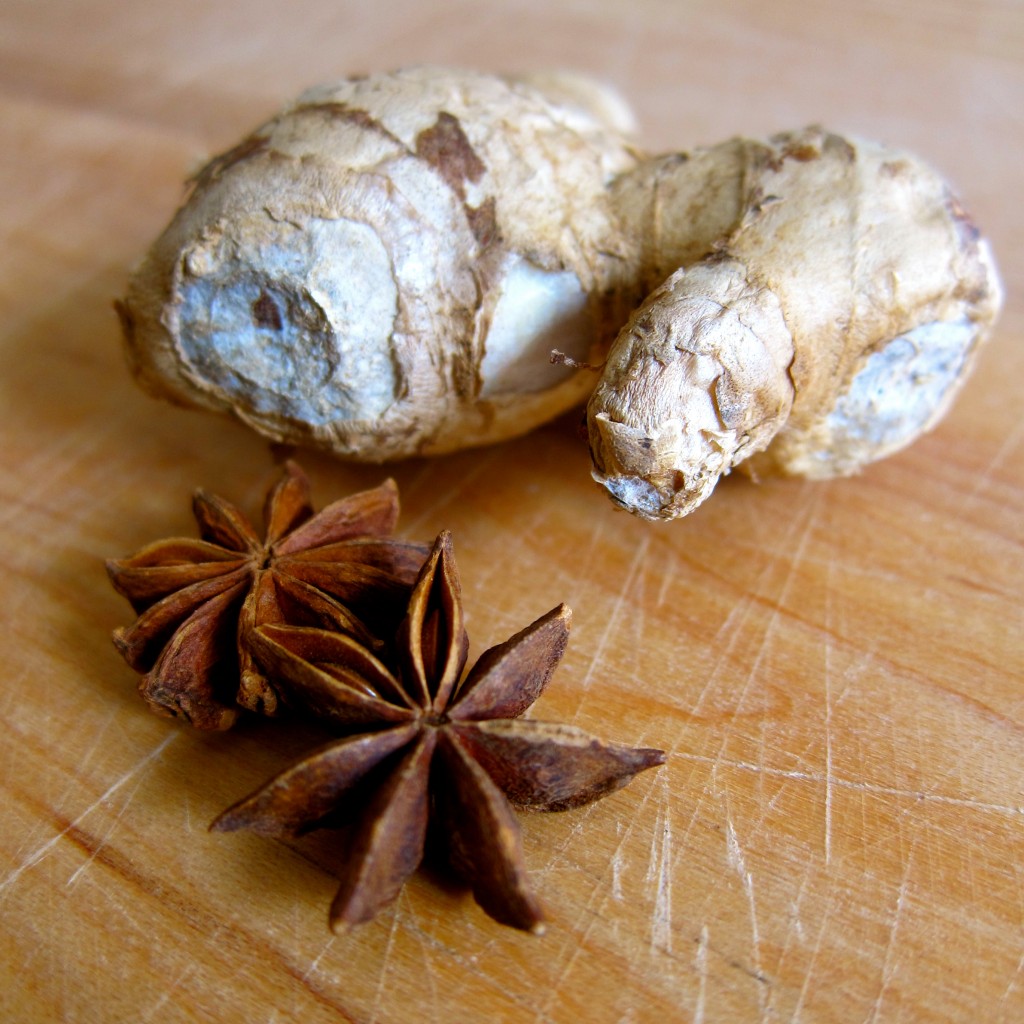 This ginger soda has more bite and tastes so much fresher than anything you can buy in a store. It's also super easy to make! The recipe below makes the base syrup, which is later diluted into sparkling water for soda. The syrup is also great for use in cocktails as well!
—
Fresh Ginger Soda
Makes about 2 1/2 cups of syrup.
Ingredients:
1 1/2 cups water

1 1/2 cups sugar
2 tablespoons finely chopped fresh ginger root
2 star anise cloves
sparkling water
Steps:
Peel and finely chop the ginger. I find either a small paring knife or a spoon works best to remove the skin on ginger root. Either slice off the skin with a knife, or use a spoon to gently scrape off the outside.
In a medium pot, comine the water, sugar, ginger, and star anise. Heat over medium-high heat, stirring briefly to dissolve all of the sugar.
Bring to a boil, them remove from the heat and cover. Let the syrup steep for one hour.
Remove the star anise and transfer the syrup, ginger pieces and all, to a container and chill in the refrigerator. You can store this syrup in the fridge for up to a few months. Once it's been cooked, there's really no reason it should go bad if kept refrigerated. The longer you keep it, the more potent the ginger becomes too!
To make soda, mix sparkling water and the ginger syrup in a 3:1 ratio. So, for 9 ounces of water, use 3 ounces of syrup to create 12 ounces of soda. Stir gently to combine the syrup and water so you don't lose all your bubbles!
Variations:
Feel free to use more or less syrup per water to adjust the sweetness and strength of the soda to your taste.
Mix up a whole batch of soda and bottle it in small swing bottles or mason jars. Bottled sodas make great gifts or are the perfect refreshment to bring along on a picnic!