I finally have time to post things again! I"m so glad I survived the holiday season, having worked nearly everyday through the holidays. Sorry if anyone was missing our posts, but I've resolved to post more often in 2013!
Nothing says winter like a warm bowl of soup! And it's definitely winter here in San Francisco. Now I know our winters aren't as harsh as some other parts of the world, but it's important to note that many San Francisco homes, including our own, do not have central heat or insulation. So when it does get into the 40s outside, it's also the same inside. Thank god for space heaters and electric blankets!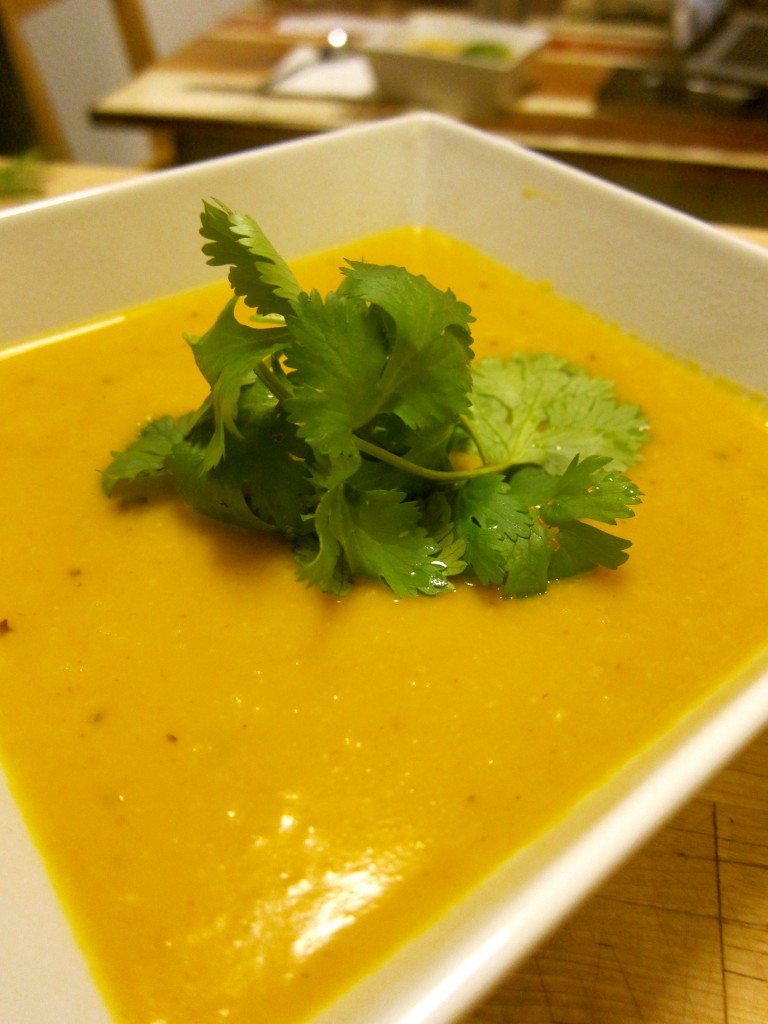 And thank god for soup! This soup is sure to keep you warm – with winter squash, caramelized fennel, and a touch of curry and chile pepper. We used a Red Kuri Squash, an heirloom type of squash but feel free to substitute any flavorful winter squash – butternut, delicata, kabocha, acorn, etc.
—
Kuri Squash and Caramelized Fennel Soup
Serves 4 – 6.
Ingredients:
1 medium Red Kuri Squash (or other winter squash), about 4 – 5 lbs.
2 medium fennel bulbs
1 medium red onion
2 cloves of garlic
4 cups vegetable broth
1/2 cup dry white wine
1 13-ounce can coconut milk
4 – 5 tablespoons extra virgin olive oil
2 dried ancho chiles (or half teaspoon dried chile flake)
2 teaspoons curry powder
1 teaspoon ginger powder
2 limes, juiced
fresh cilantro
salt and black pepper
Special Equipment:
blender, immersion or other
Steps:
Preheat the oven to 400°. Rinse the squash and wipe dry. Cut the squash in half, scoop out the pulp and seeds, and discard them. Cut the squash into quarters and brush the insides lightly with olive oil. Place the quarters on a baking sheet and bake for 1 hour.
While the squash is cooking, wash the fennel and remove the stems and fronds. Slice the bulb in half and slice each half into thin half-rings. Slice the onion in a similar manner, creating thin half-rings. Roughly chop up the dried chiles. In a large pot, heat the remaining olive oil over medium heat and add the dried chiles. When the chiles just start to sizzle, add the fennel and onion. Turn the heat to low and let cook, stirring occasionally, for about an hour. The key here to beautifully caramelized fennel and onions is low and slow! You have to wait for the squash to roast anyway so be patient!
When the squash is cooked (fork tender). Remove from the oven and let cool for a few minutes. Chop up the garlic finely and add to the fennel and onions. When the squash is cool enough to handle, gently peel off the skin, and discard it.
Turn the heat on the pot to medium and add the white wine, being sure to scrape the bottom. Add the squash pulp, vegetable broth, coconut milk, curry powder, ginger powder, and salt and pepper to taste. Bring everything to a boil and then turn the heat down to a simmer.
Blend the soup in batches in a standing blender or directly in the pot with an immersion blender. (The immersion blender works best for this. I highly recommend investing in one for all your soup or smoothie making!)
Once blended, add the lime juice a teaspoon at a time tasting as you go. Adjust seasoning by adding salt and pepper as necessary. I like to do this at the end to get the flavors just right.
Serve and garnish with fresh cilantro leaves.