I've definitely declared my undying love for strawberries many times before. So it's probably no surprise that I try to eat and cook with them as much as possible. I'm constantly trying new recipes and thinking of ways to include more strawberries in my diet.
So when I wanted a new dessert recipe that wasn't pie or ice cream (my go to's), I turned to another favorite dessert of mine, pots de crème. Typically made in either chocolate or vanilla, pots de crème are baked custards, generally set a bit looser than say a crème brûlée or flan. They're the perfect easy and impressive dessert.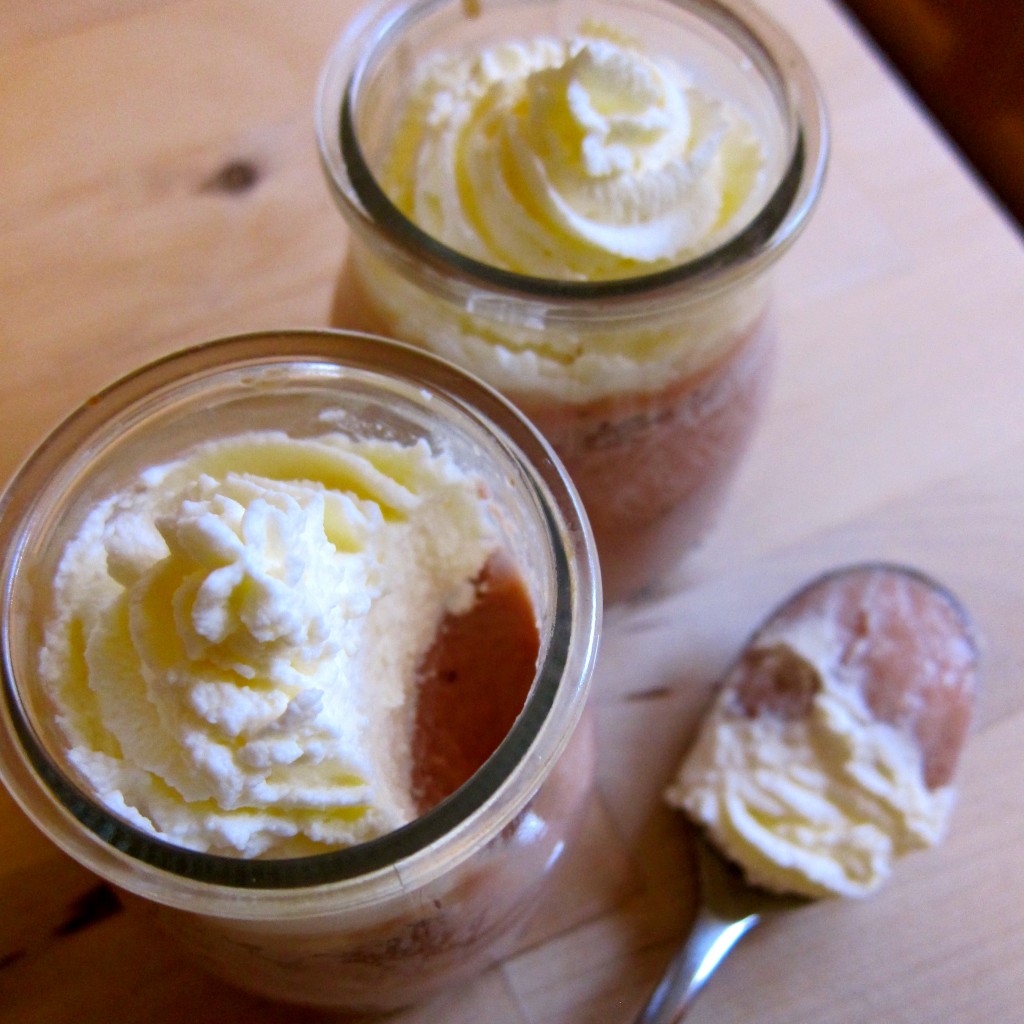 I used small glass ramekins that are about 4 ounces in volume. You could definitely use larger ramekins if you had. Just know that cooking times may increase slightly for larger ramekins. Although, there's something to be said for a smaller portion of a rich and decedent dessert that is made nearly entirely of cream and egg yolks.
Be sure to let these set up in the fridge once they're baked. The custard will firm up a bit once chilled, and I like the idea of a cool refreshing strawberry-filled dessert to end a spring or summer meal!
—
Strawberry Pots de Crème
Makes 4, 4-oz. custards.
Ingredients:
1/2 cup whole milk
1/2 cup heavy cream
pinch of salt
1 over-flowingly full pint of fresh strawberries
zest of 1 lemon
juice of 1/2 lemon
1/4 cup sugar
6 egg yolks
freshly whipped cream, for garnish
Special Equipment:
4, 4-oz. oven-safe ramekins
blender or food processor
fine mesh strainer or sieve
Steps:
Preheat oven to 350°.
Separate the eggs and place the yolks in a large bowl. The whites are not needed in this recipe, so save them in the fridge for another recipe (frittata, omelet, macarons, etc.).
Thoroughly wash the strawberries and lemon. Slice the tops off the strawberries. Cut strawberries into small slices and put in medium-sized saucepan. To the strawberries, add the lemon zest, lemon juice, and sugar. Cook strawberry mixture over medium heat, stirring occasionally.
After about 10-15 minutes, the strawberries will have released their juices and become a thickened sauce. Be careful to stir every now and then so the berries on the bottom don't burn. Cook the strawberries until bubbling and a spoon or spatula dragged across the bottom of the pan leaves a gap. Turn off the heat and let the strawberries cool for about 10 minutes.
While the strawberries cool, combine milk, cream, and salt in a small sauce pan. Heat gently over low heat.
While the milk is heating, puree the strawberries in a blender or food processor. Strain pureed strawberries through a mesh strainer into a clean bowl to remove any seeds. Discard any seeds and wash the mesh strainer.
Heat a pot of water and prepare your ramekins by placing them in a shallow baking dish.
When the milk just reaches a simmer, remove from the heat. Using a spatula (not a whisk!), break apart the egg yolks in their bowl. Ladle one spoonful of the warm milk slowly down the side of the bowl into the egg yolks, while constantly stirring. You're slowly raising the temperature of the egg yolks, and adding the hot milk too quickly will result in scrambled eggs. Keep adding ladles of the warm milk, constantly stirring, until all is incorporated. Gently stir in the strawberry puree until mixed. Be careful not to over-mix or whip in too much air.
Strain entire mixture through a mesh strainer again, into a bowl with a pouring spout.
Pour the strained mixture in to the ramekins, distributing evenly. Pour boiling water in the baking dish until 3/4 up the side of the ramekins. Cover tightly with foil and transfer into the over, being careful not to spill any of the hot water.
Bake for 30 – 35 minutes. The custard should have the slightest jiggle when done. Remove from the oven, again being careful not to spill hot water on yourself. Remove the ramekins from the water bath and transfer to a cooling rack.
Once the ramekins are cool to the touch. Cover each with plastic wrap and transfer to the fridge. Let chill for at least 2 hours.
Serve pots de crème chilled, with a dollop of freshly whipped cream!