I love hummus! Hummus and pita chips are one of my favorite snacks! Yet, I'm often disappointed by the various brand of hummus I find in stores. Many of them have unnecessary chemicals and preservatives, and others have an off-putting texture or taste from sitting on the shelves for too long.
After many taste tests, I've finally giving up on trying to find a brand of hummus I like and have started to just make my own. And my recipe really couldn't be easier! The resulting hummus, is silky, tasty, and a bit lemony!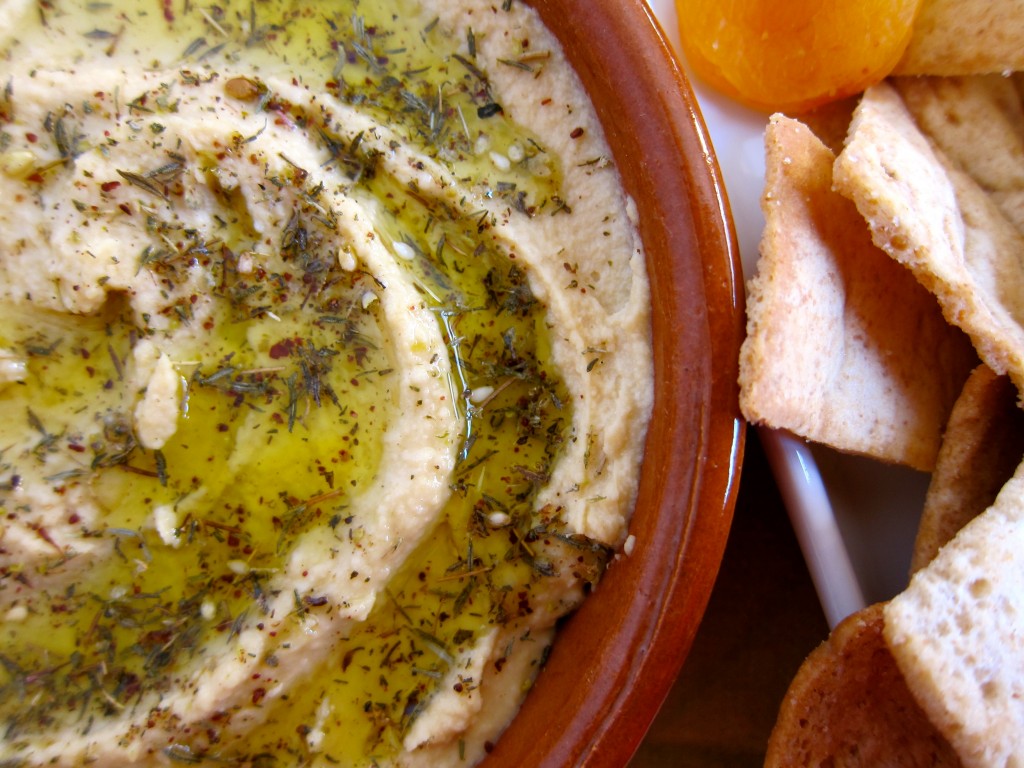 When you make this hummus, make sure you're using pure tahini (sesame paste). The ingredient list on the jar of tahini should only have one ingredient, sesame seeds. Puréed. That's it. Nothing else. Tahini is often found in the grocery store either grouped with other nut butters or in the ethnic cooking section.
To serve the hummus, I love to spread it in a shallow bowl or dish and sprinkle za'atar and extra virgin olive oil over the top. Za'atar is a Middle Eastern spice blend that can vary but generally contains sesame seeds, dried sumac, oregano, and thyme. If you can't find a za'atar spice blend, feel free to garnish with any combination of toasted sesame seeds and the above mentioned herbs.
—
Easiest Hummus Ever
Makes about 4 cups.
Ingredients:
2, 15 oz. cans organic garbanzo beans
1/2 cup extra virgin olive oil
1/2 cup + 1 tablespoon fresh lemon juice (about 4 medium lemons)
1/2 cup tahini (sesame paste)
3 cloves garlic
3/4 teaspoon salt
za'atar and extra olive oil for garnish
fresh pita, pita chips, or veggies for dipping
Special Equipment:
Steps:
Empty the can of garbanzo beans into a colander and rinse under cold water. Let excess water drip away for a few minutes.
Juice the lemons and peel the garlic cloves.
In the large bowl of a food processor, combine the chickpeas, whole garlic cloves, lemon juice, tahini, and salt.
Run the food processor on high speed and slowly drizzle in the extra virgin olive oil while the processor is running.
Process until silky and smooth, stopping to scrape down the sides of the processor with a spatula if necessary.
The hummus can either be refrigerated until serving or plated to serve immediately.
To serve, spread hummus over a shallow bowl or dish. Sprinkle with za'atar and a light drizzle of extra virgin olive oil.
Serve with fresh pita, pita chips, or cut up veggies!