I know, I know. It's after Labor Day. So no wearing white. And 'grilling season' is over. Or is it?
I really don't think grilling should have a season. What's stopping you from firing up that grill the other 9 months of the year? In fact, it's great to huddle around a hot grill in the middle of winter, warming yourself with the smell of charring food and perhaps a glass of hot cider!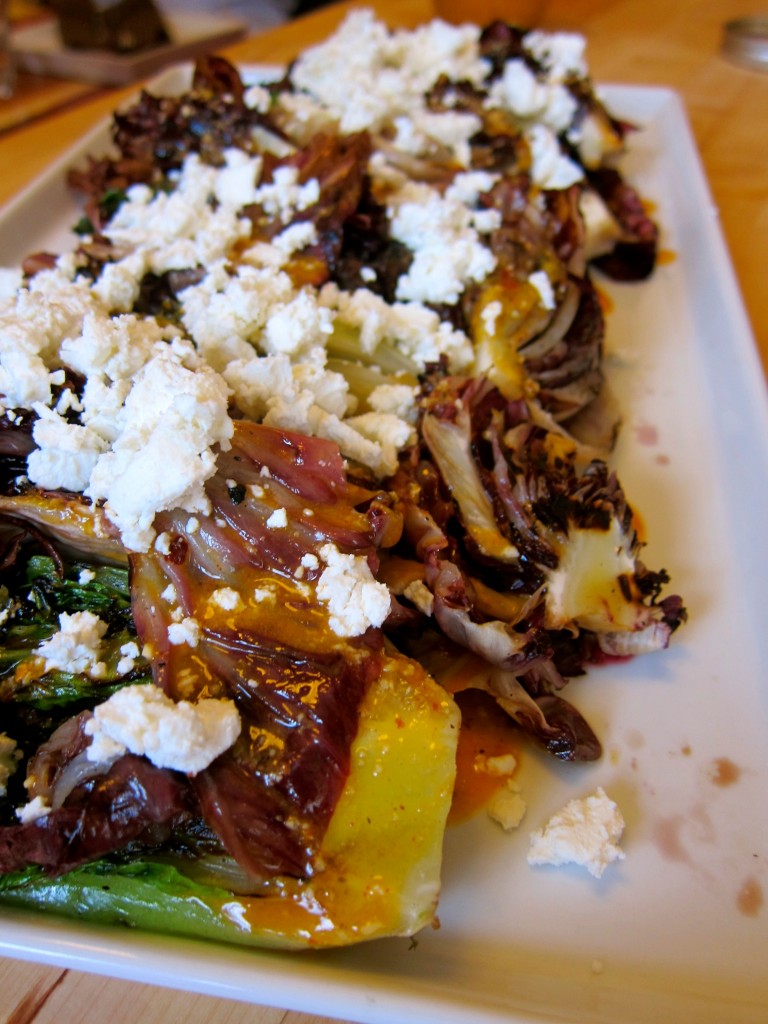 So this recipe celebrates winter-grillables! As we move toward the fall and winter, fresh lettuces and chicories will abound. Grilling up these hearty greens is a great way to mix up a boring old salad. I used baby romaine heads and radicchio but feel free to switch out any available green you can find – kale, endive, escarole, etc.
Grilling up chicories (the family of bitter lettuces) in particular helps to soothe their bitter qualities. Not a fan of endive or radicchio? Try them grilled, and I bet you'll change your mind.
—
Grilled Romaine and Chicories
Serves 4 -6.
Ingredients:
5-6 heads of baby romaine
5-6 heads of radicchio
olive oil
salt
6 oz. fresh goat cheese, crumbled
1 prepared recipe of Smokey Lime Vinaigrette
Special Equipment:
gas or charcoal grill or stovetop grill pan
Steps:
Preheat your grill on medium high.
Fill your sink with enough cold water to fully submerge all the lettuce heads. Cut each head in half from root to top. Be sure to keep the root area in tact on each head or the leaves will just fall apart. Allow them to soak in the water for about 5 minutes, lightly moving around to loosen any dirty and sand.
Rinse each half under running water to get rid of any stubborn dirt or sand. Place halves, cut-side-down, on a cookie rack over a sheet pan or in your dish drainer to let any excess water drip out.
On a platter or in a baking dish, place all the halves cut-side-up. Brush each cut side liberally with olive oil and sprinkle with just a bit of salt.
Place each half, cut-side-down, on the preheated grill and close the lid. Grill for about 2 minutes or until lightly charred and flip. Close the lid and grill for another two minutes until lightly charred on the second side.
Return grilled lettuce halves to the platter or dish and cover to keep warm as you grill any that remain.
Spoon the Smokey Lime Vinaigrette over the lettuces, being sure to let it ooze in between all the leaves. Sprinkle with fresh goat cheese and serve!