I feel like people are always afraid to attempt homemade pasta. Yet, I honestly believe it is one of the easier things to cook from scratch! Once you get the proportions down and the feel for the dough, you can easily scale this recipe up and down and change out the types of flour used.
Cavetelli are a shape of pasta that are short and curled over themselves like a small dumpling. We like them with ridges, similar to a potato gnocchi. They're great for a first time pasta-maker since they don't require rolling the dough into a thin sheet, either by hand or with a pasta roller. The ridges are created with a gnocchi board, and are entirely optional.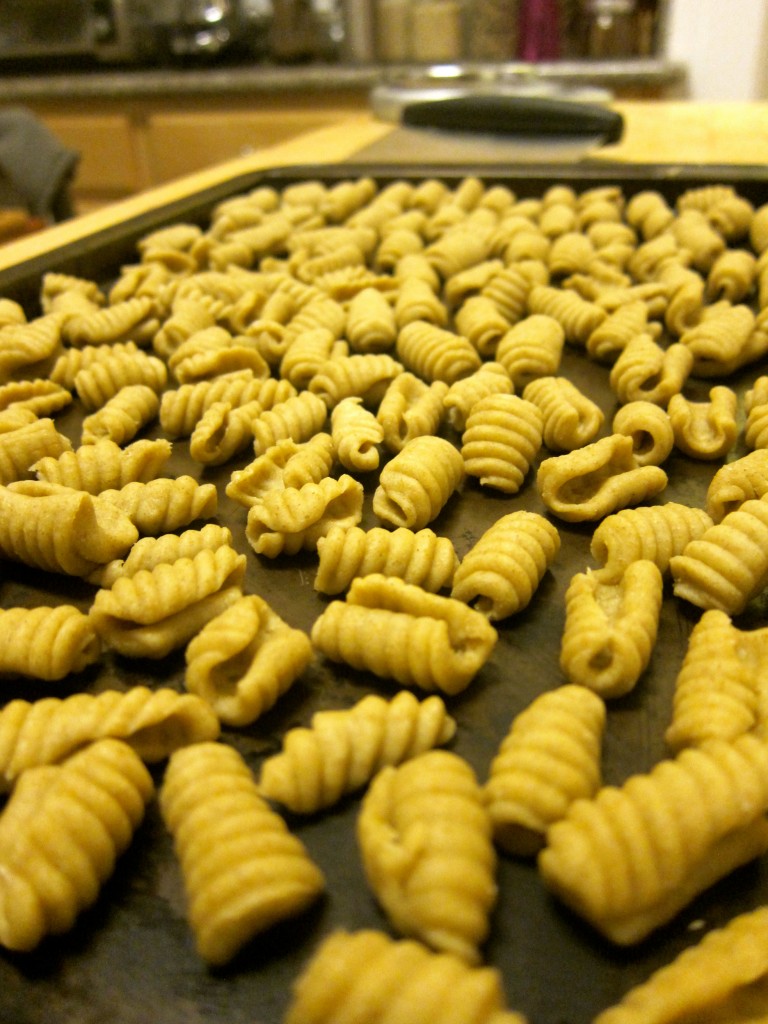 We use both rye and whole wheat flour for a richer texture and hearty flavor. Rye and whole wheat flours also have a lower glycemic index, meaning they don't cause a spike in blood sugar like white flour.
Cavetelli are best served with a thick or chunky sauce, like our Roasted Cherry Tomatoes and Olives recipe. If you make them with ridges, it helps the sauce to stick better!
Special thanks to Christian for being our hand model!
 —
Mixed Grain Cavatelli
Ingredients:
1/2 cup all purpose white flour
1/2 cup whole wheat flour
1/2 rye flour
1/2 cup '00' pizza flour
2 eggs
1 tablespoon extra virgin olive oil
pinch of salt
2 – 4 tablespoons water
Special Equipment:
Steps:
You can either mix the dough by hand or by using a stand mixer with the dough hook attachment. Mixing by hand gives you a better sense of when the dough is ready.
In a large bowl, combine the flours and the salt.  Add the eggs and the olive oil.
If mixing by hand, stir with a fork a few times to break up the eggs and incorporate them into the flour. Then use your hands to mix and knead the dough. Add water a little at a time until the dough starts to hold itself together. Be careful not to add too much water.
If using a stand mixer, mix on medium-low speed until the egg and olive oil are incorporated. Add water a little at a time until the dough starts to form a ball.
On a smooth, clean surface, take a handful of the dough and roll out into a long rope about 3/8″ in diameter. Roll from the inside towards the edges to stretch the rope evenly.
Using a knife or bench scraper, cut the rope into 1/2″ long pieces. Place a piece on the gnocchi board and press it gently with two fingers as you pull towards you. The dough should curl over itself while being imprinted with the ridges.
If you're not using a gnocchi board, follow the some process on a flat, smooth surface for an un-ridged pasta.
Continue rolling, cutting, and shaping the dough. Place finished pieces in a single layer on a lightly floured tray.
You can cook these immediately or freeze for later use. If freezing, toss generously with flour to coat so they don't stick to each other.
To cook, bring 4 quarts of water to a boil. Salt the water generously – it should be as salty as the sea! Add the Cavetelli and boil for 3 – 5 minutes until they float and are al dente (they will take longer if cooking from frozen).
Serve with a thick or chunky sauce!