I can't stop eating tomatoes! We're in the height of tomato season here on the west coast and I can't help but incorporate them into at least one meal a day. It amazes me the sheer amount of variety and flavors available in the form of one type of fruit! Heirlooms, Early Girls, San Marzanos, Sweet 100s, Sungolds – I love 'em all!
This recipe features a beautiful variety of cherry tomatoes I got from the farmers market. Roasting them in the oven really concentrates their flavor and makes the house smell amazing! Pairing the roasted tomatoes with green Castelvetrano olives (a type of lightly brined Sicilian olive), small mozzarella bocconcini, and a handful of basil, is a great spin on the classic Caprese-combination!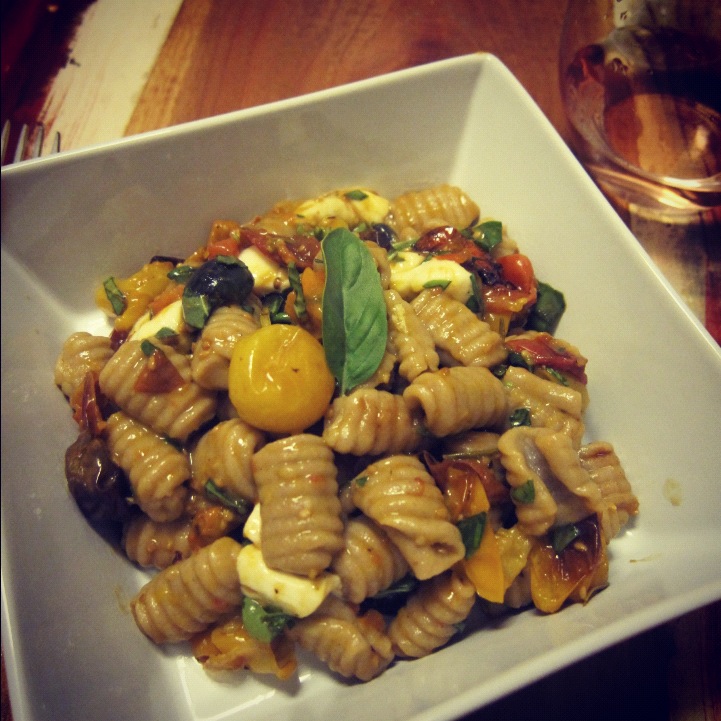 —
Cavatelli with Roasted Cherry Tomatoes and Olives
Serves 4.
Ingredients:
2 pints mixed cherry tomatoes
4 ounces castelvetrano olives, pitted
3 cloves of garlic, finely chopped
2 tablespoons extra virgin olive oil
1 sprig fresh rosemary
4 – 5 sprigs fresh thyme
1 prepared recipe mixed grain Cavatelli
1 8-ounce container mozzarella bocconcini (the small balls)
handful of fresh basil leaves
salt
pepper
Steps:
Preheat the oven to 375°.
Wash the tomatoes, remove any remaining stems, and place them in a large bowl. Pit the olives if necessary and slice them into halves. Add the olives to the bowl, along with the garlic, and olive oil. Pull the leaves off the rosemary and thyme, discarding the stems, and sprinkle those into the bowl as well. Season with salt and pepper and toss to coat everything.
Spread the tomatoes on a sheet pan in a single layer.
*Note: If you're using an aluminum pan, spread a layer of baking parchment over the pan before adding the tomatoes. Tomatoes and aluminum react with each other creating off flavors. Don't use aluminum foil either, only baking parchment, then the tomatoes over the parchment.
Bake for about 1 hour and 15 minutes, or until the skins of the tomatoes are gently toasted and are they are beginning to burst and/or shrivel.
While the tomatoes are cooking, make the pasta if needed, slice the bocconcini into smaller pieces (it helps distribute the mozzarella more evenly if it's smaller), and clean and roughly chop the basil leaves.
During the last 20 or so minutes of baking, set water to boil for the cavatelli. Start cooking the pasta during the last 5 minutes of baking to time their finish together.
Once done, remove the tomatoes from the oven. Toss with cooked pasta,  and add the mozzarella and basil. Stir gently to combine everything and serve immediately.