I feel like this simple snack is a New York meets San Francisco kind of recipe. I'm from the east coast and in love with New York bagels. You might say I have an unhealthy bagel obsession, and NY bagels have set the gold-standard for me! In fact, whenever I fly home to visit the east coast, our first stop after leaving the airport is always Bagel Train, my staple NY bagel shop. My mom has even overnighted bagels to my sister and myself on our birthdays! We are serious about bagels. I have yet to find a bagel in California that can begin to compare to New York style bagels. Until yesterday.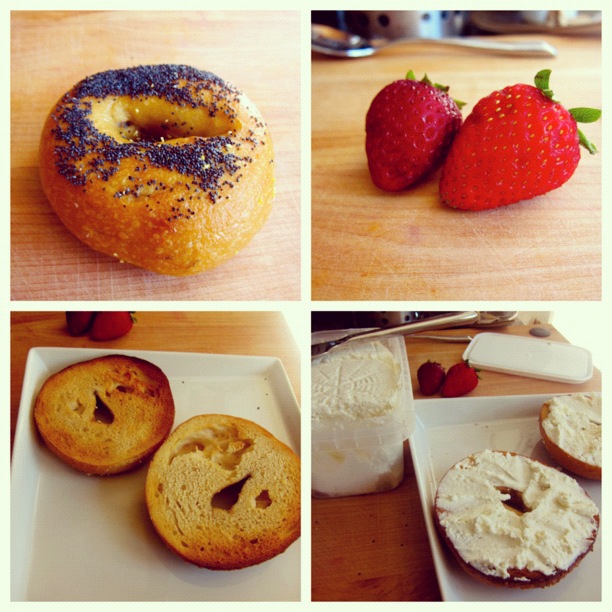 Yesterday I finally got to try a Schmendricks bagel. They have a small pop-up shop out of a garage across from work on Sunday mornings. I stood in a lengthy line on my 10-minute break to get my chance at trying one of their bagels. My co-worker and I were equally excited (she's from NY AND Jewish – so she knows her bagels!) and worried they might sell out before we got ours!
We did make it in time and each got our bagel fix. I have to say, I was really impressed! It was crusty on the outside and chewy on the inside and the closest thing I've found in California to a true NY bagel! I scarfed one down right then and there and got half a dozen to take home.
And so this simple recipe was my breakfast this morning, using our homemade ricotta, some strawberries from the Mission Kitchen garden, and some lavender honey. Of course, nothing beats a good bagel with smear and lox. But for something different, this hit the spot.
—
Bagel with Ricotta, Strawberries, and Lavender Honey
Ingredients:
a good quality bagel
fresh ricotta cheese
4 – 5 medium strawberries
lavender infused honey*
Steps:
Slice and toast the bagel. Spread a generous amount of fresh ricotta over each slice.
Remove the stems from the strawberries and slice into about 4 slices. Place strawberry slices over the bagels and drizzle with lavender infused honey.
*Lavender infused honey can be found in specialty markets or can easily be made at home. To make it, place 5 or 6 sprigs of dried lavender in a half-pint size canning jar. Fill the jar with raw, unfiltered honey to cover the sprigs. Close the jar, and let sit for at least a week. The longer it hangs out the more the lavender will infuse into the honey.