French sorrel is a green and leafy herb that has an unusual flavor. It has the peppery quality of arugula but a tart acidity like fresh lemon juice. It's a perennial and our 1-year old plant in the garden is just starting to take off producing a steady supply of leaves. It's a pretty versatile herb and a few leaves can be tossed into a salad, used in sandwiches, or in this case, mixed into an aioli.
This sauce uses that intense lemony flavor of sorrel to it's advantage. We used it on some tuna burgers but feel free to use it in any way you like: on grilled corn, over an omelet, with mussels, spooned over fresh tomatoes . . .
Also, if you've never made aioli by hand, get those arm muscles ready. It requires constant whisking to set the emulsion. We mixed this by hand with a whisk, but it could easily be done in a food processor. Though, the work of all that whisking somehow makes this rich sauce more satisfying when it's done.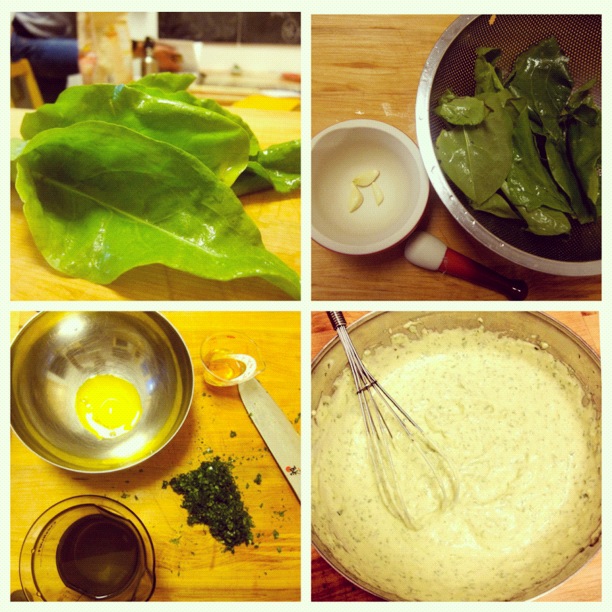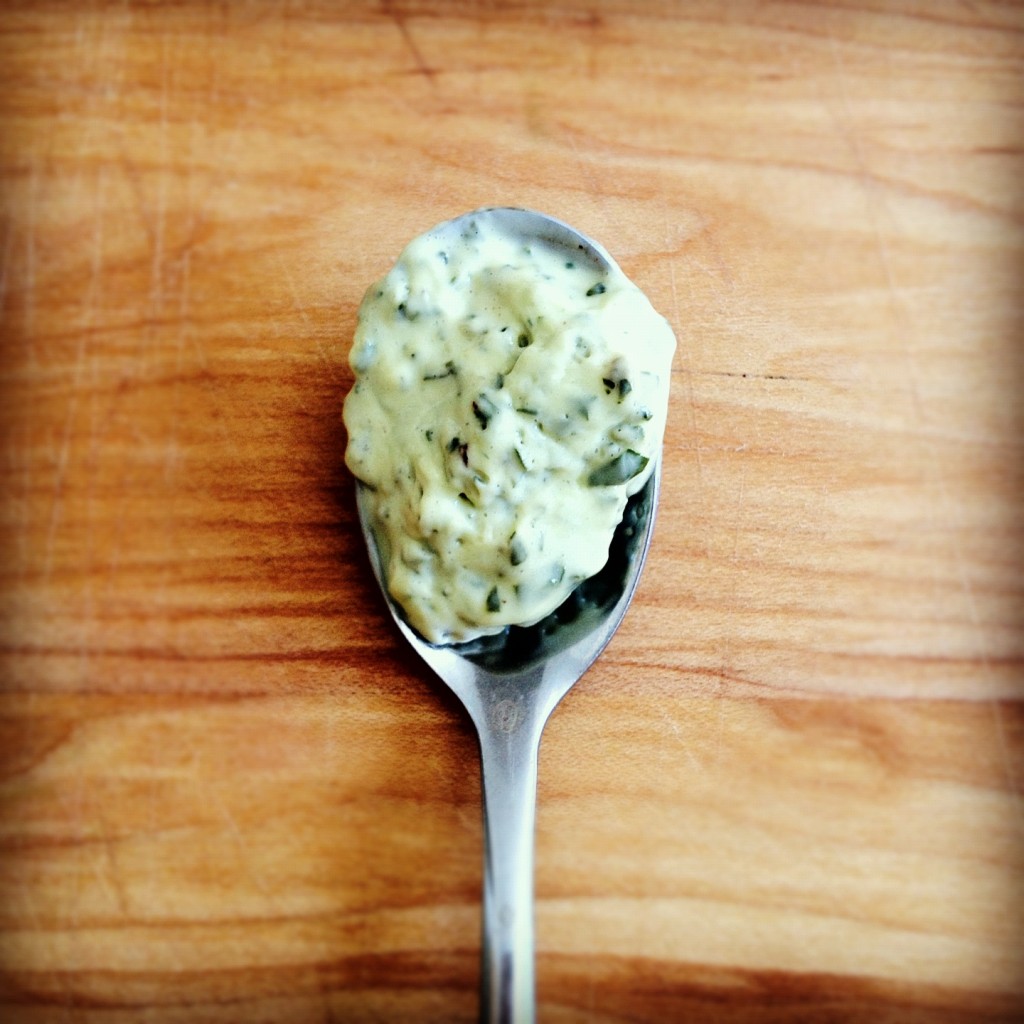 If you can't find sorrel in your grocery store or garden center, a good substitution would be some arugula and 1 tablespoon of lemon juice to replace 1 tablespoon of vinegar.
—
French Sorrel Aioli
Yields About 2 Cups
Ingredients:
2 egg yolks, room temperature
1 1/4 cup extra virgin olive oil
2 tablespoons champagne vinegar
3 cloves garlic
2 ounces fresh sorrel leaves (about 6 – 8 leaves)
salt and ground black pepper to taste
Steps:
Set the egg yolks in a medium bowl, and sprinkle a little salt and pepper over them. Whisk briefly to break them apart and combine.
In advance, measure out your olive oil and vinegar.
Remove and discard the stems from the sorrel. Finely chop the leaves. Finely chop the garlic cloves or smash into a paste with a mortar and pestle.
It helps to have an extra set of hands when mixing this sauce, one to pour the oil and the other to whisk and hold the bowl. Otherwise, make sure your bowl is stable on a surface so it won't move around. You can set a dish towel under the bowl to help with this.
Add 1 tablespoon of the vinegar to the egg yolks and begin whisking until light yellow in color. Begin adding the oil drop by drop, whisking constantly. Yes, drop by drop. You need to slowly create the emulsion in the beginning or the aioli will break as you add more oil. Once you've added about 2 tablespoons of the aioli in drops, the sauce should begin to increase in volume and thicken. Continue adding the oil in a very slow stream at this point, whisking constantly as you pour.
Once all the oil has been incorporated, whisk in the sorrel, garlic, and remaining tablespoon of vinegar. Taste, and adjust with salt and pepper as needed. Keep whisking until the sauce is glossy and can hold it's shape into small peaks.
The sauce will keep for 3 – 4 days in the refrigerator, but should be used sooner than later because of the raw egg yolks.