I'm constantly surrounded by food inspiration at work. This recipe was inspired by the beautiful variety of heirloom tomatoes that are in season right now. I love the varied colors and tastes of all these types of tomatoes. I think the bright tomato flavor is nicely balanced with the buttery and savory Gruyère cheese in this tart.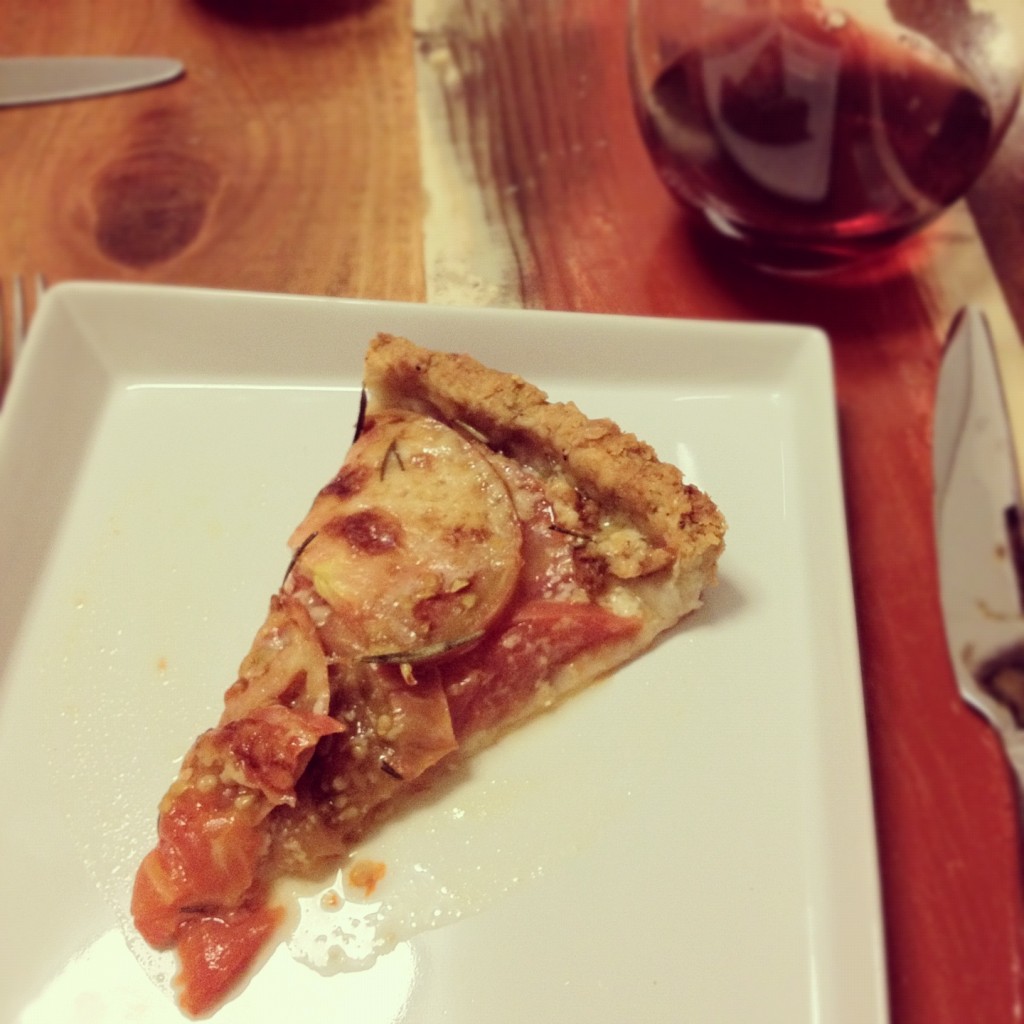 If you've never had real traditional Swiss cave-aged gruyère, stop what you're doing and go get some right now! Seriously. I'll wait.
Okay, you back? Good! Now, to tell you a little about what makes Gruyère so special. Gruyère has a long tradition in the mountainous regions of Switzerland. Traditionally, the cheese was often used as a method of payment for a cow herder's use of a a piece of land for grazing. The large wheels were also an important way to preserve milk and maintain a food supply through harsh winters.
To make it, raw cow's milk is heated, and the addition of traditional rennet separates the whey from the curds. The curds are cut, cooked, and pressed into large round molds. The wheels are then washed in a salt brine, and rubbed with bacteria for aging. They'll spend 2 months in maturation rooms and from there continue to age in natural caves which have 95% – 98% humidity. They'll spend at least 5 months here for a mild cheese and longer for harder cheeses. The finished and matured wheels are huge (up to 80 pounds!), and often require a little teamwork to cut them open. The flavor is buttery with tastes of caramelized onions and a light nuttiness. It melts really well and is perfect for cooking!
This recipe uses Gruyère in both the crust AND the filling! Double trouble!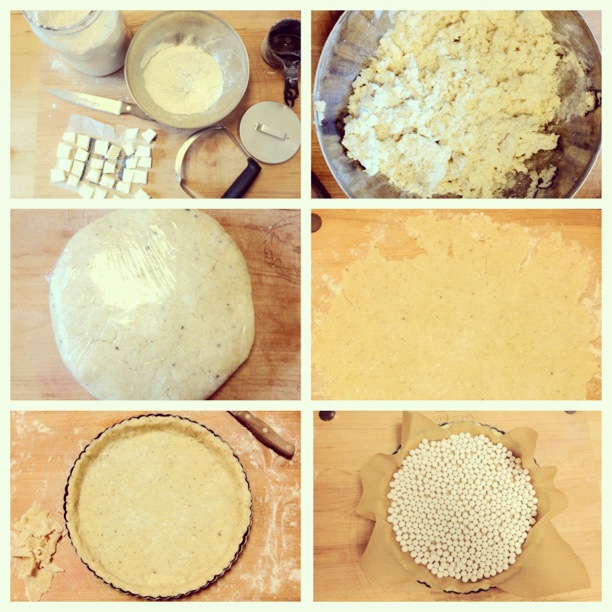 —
Heirloom Tomato and Gruyère Tart
Makes one 11″ Tart
Ingredients:
1 1/4 cups all purpose flour
1/2 cup butter, cold (1 stick)
1/2 teaspoon salt
1 teaspoon freshly ground black pepper
1 1/2 to 3 tablespoons ice water
6 ounces Swiss cave-aged Gruyère, grated
3 – 4 assorted medium heirloom tomatoes
a few sprigs or fresh rosemary
Special Equipment:
11 inch fluted tart pan with removable bottom
pie weights (rice or beans are a good alternative – see recipe)
Steps:
First, make the tart shell. In a medium bowl, whisk together the flour, salt, and pepper. Cut the butter into small cubes and place them in the bowl with the flour, tossing gently to coat each cube with flour so they don't stick together. Add half of the grated Gruyère, about 1 cup, very loosely packed. Using a pastry blender or a fork, cut the butter and cheese into the flour until lightly crumbly and the chunks of butter are the size of pea. Sprinkle 1 1/2 tablespoons of the water over the dough and blend a few more times just until the dough starts to stick together. It should still look crumbly, but if you pick up a piece and squeeze it together it should hold together. If necessary add more water, little by little until you reach this point. Turn the dough onto a sheet of plastic wrap and gently mold it into a flat disk. Wrap up the dough disk and refrigerate at least 1 hour to chill thoroughly.
Roll out the tart shell. Generously flour your rolling surface and rolling pin. Roll out a circle about about 1/8 inch thick and 12.5 inches around. Rotate the dough on the surface as you work to prevent sticking and add more flour underneath as needed. Once you've reached the proper diameter, gently roll the dough around your rolling pin and transfer it to an 11 inch fluted tart pan. Gently press the dough into the pan, folding the overhang under the inside edge to create an even crust. Transfer to the refrigerator for at least 30 minutes.
Preheat the oven to 375°.
Once the tart shell is chilled, line it with parchment paper and pour in pie weights. If you don't have pie weights, you can use a cheap bag of beans or rice. The whole idea here is we're going to pre-cook the tart shell partially and we don't want the crust to rise or bubble with nothing in it. The weights prevent this. Put the weighted tart shell in the oven and bake for about 20 minutes, until the crust looks dry and pale. You can check by gently lifting the parchment. It should not look at all opaque. Once done, remove the pie weights by lifting out the parchment. Let cool.
Turn oven up to 400°.
While the shell is cooling, slice the tomatoes into even slices, about 1/4 inch thick and set in a colander or on a cooling rack set on a tray to drain excess liquid. Once the tart shell is no longer hot to the touch, begin layering the tomato slices in a circular pattern from the outside in. Once you've completed one layer, sprinkle about half the remaining cheese over the tomatoes. Make another layer of tomatoes with the remaining slices and sprinkle the rest of the cheese over this layer. Sprinkle individual rosemary leaves over the top. Place the tart in the oven and bake until the cheese is golden and the tart is bubbly, about 35 to 40 minutes.
Let rest at room temperature for about 10 minutes. Remove from tart pan and serve!