These burgers are a great summer grilling recipe! I've been so excited to enjoy the fresh local albacore tuna we have in season right now. We also have an abundance of local sweet peppers so I used our favorites of the summer, Jimmy Nardello's Peppers.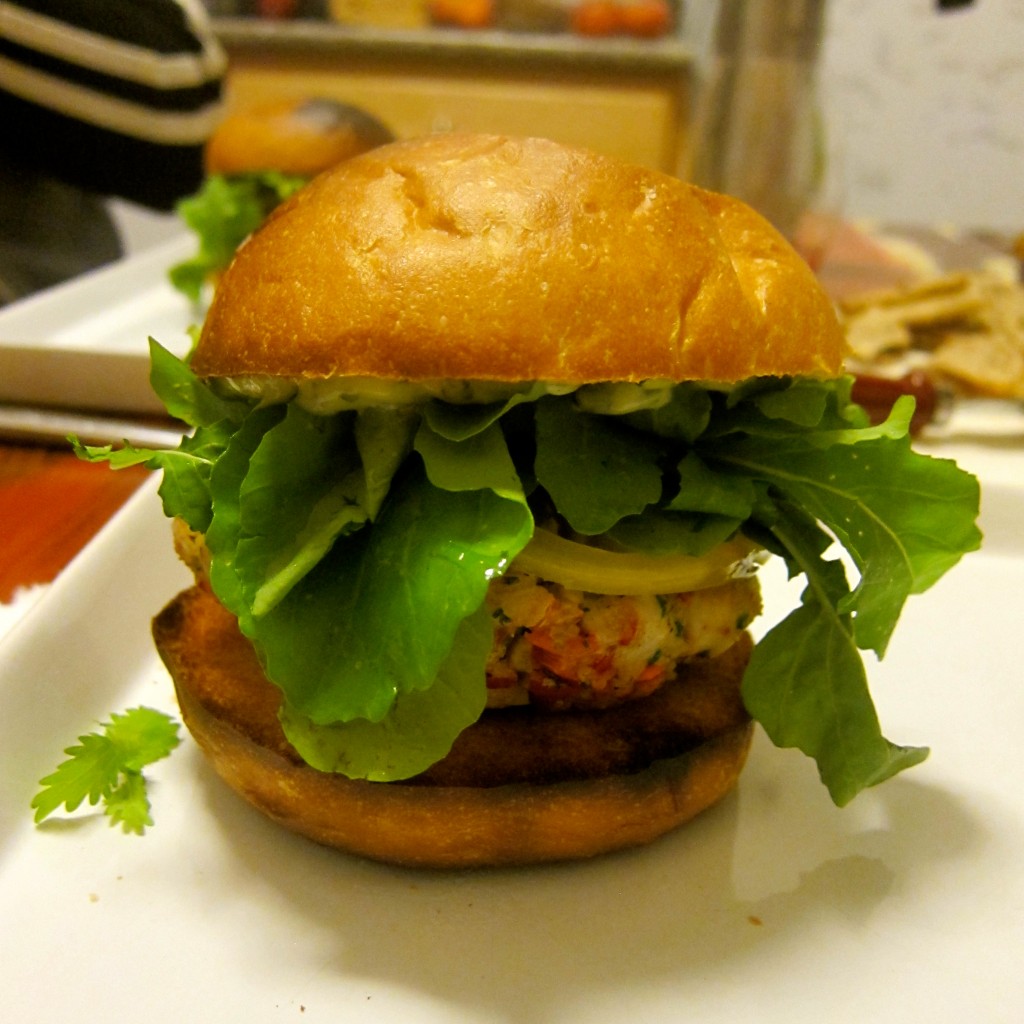 These burgers are topped with our French Sorrel Aioli, which adds a great lemony kick. We also topped them with some heirloom tomatoes and arugula, but feel free to make these burgers your own with whatever toppings you like!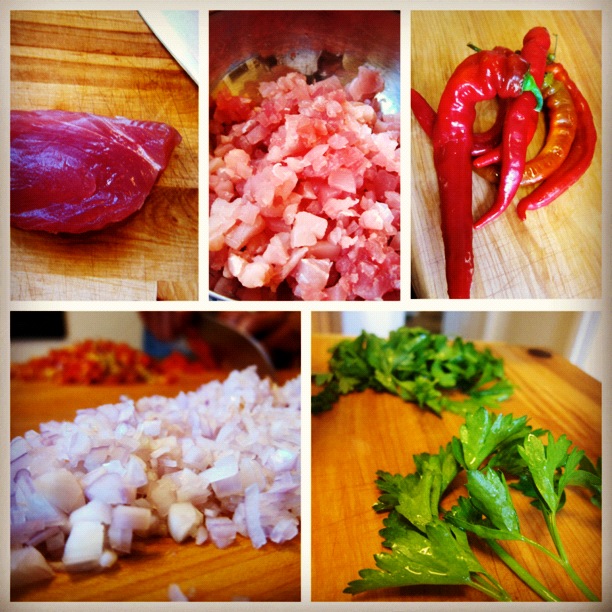 —
Tuna and Red Pepper Burgers
Makes 6 Patties
Ingredients:
1 pound fresh tuna steaks
4 ounces sweet red peppers (about 5 – 6 Jimmy Nardello's or 1 medium red bell pepper)
2 medium shallots
1/4 cup chopped fresh parsley
1 tablespoon dijon mustard
1 1/2 teaspoons chile powder
1 egg
3/4 cup panko breadcrumbs
1 teaspoon ground black pepper
1 teaspoon salt
1 tablespoon canola oil
6 burger buns
1 – 2 heirloom tomatoes
fresh arugula
1 recipe French sorrel aioli
Special Equipment:
Grill Pan or Grill (optional)
Steps:
Finely dice the tuna steaks into very small cubes. Make sure to remove any remaining cartilage or bones as you go. Of course, using a very sharp knife is important, but wetting the knife as you're chopping can help make slicing the fish a bit easier too. Place the diced tuna in a bowl and keep in the fridge while you prepare the other ingredients.
Very finely chop the shallots and Jimmy Nardello's peppers. If using Jimmy Nardello's, chop them seeds and all. If using a red bell pepper, remove the seeds before chopping. Place chopped shallots and peppers in a large bowl. Crack the egg in a separate small bowl and whisk briefly to break apart. To the shallots and peppers, add the chopped parsley, tuna, mustard, egg, chile powder, panko, salt, and pepper. Using your hands mix everything together until evenly distributed.
Form 6 even patties with your hands and place on a tray. Transfer the tray to the refrigerator to chill for about 30 minutes.
While the patties are chilling, make the aioli.
Slice your burger buns, wash and slice the heirloom tomato, and wash and dry the arugula. Set these aside, ready to assemble the burgers.
Prepare your grill pan or grill. If you don't have either you can certainly just fry these in a saute pan. If using a grill pan, brush the tablespoon of oil of the pan and set over medium heat.
Grill the tuna patties, for about 3 minutes on one side before flipping. Grill for another 3 -5 minutes depending on the desired doneness. I don't mind tuna a bit on the rarer side.
Toast the buns in a toaster oven or on the grill. Assemble the burger by spreading a generous helping of the aioli on both sides of the bun, and topping the tuna patty with heirloom tomato and arugula. Feel free to add any other favorite burger toppings!