I looove eggplant! Especially in the summertime when there are so many varieties available! This is a simple dish that can be used as an appetizer or added to a salad. We used our own housemade ricotta for this recipe which really added something special to it. Ricotta is actually not too difficult to make and is amazing when fresh. I'll probably post our ricotta recipe here sometime soon. In the mean time, it's certainly acceptable to use store-bought ricotta, but try to find good quality. Here in California, we like Belfiore or Bellwether Farms ricotta – although Bellwether can be hard to come by!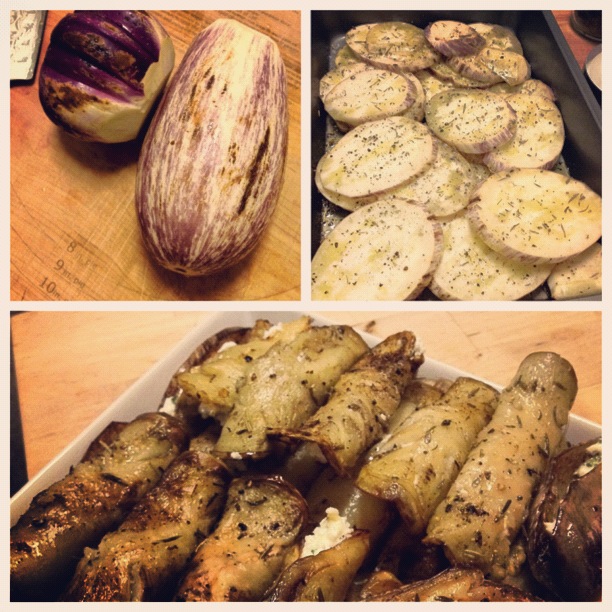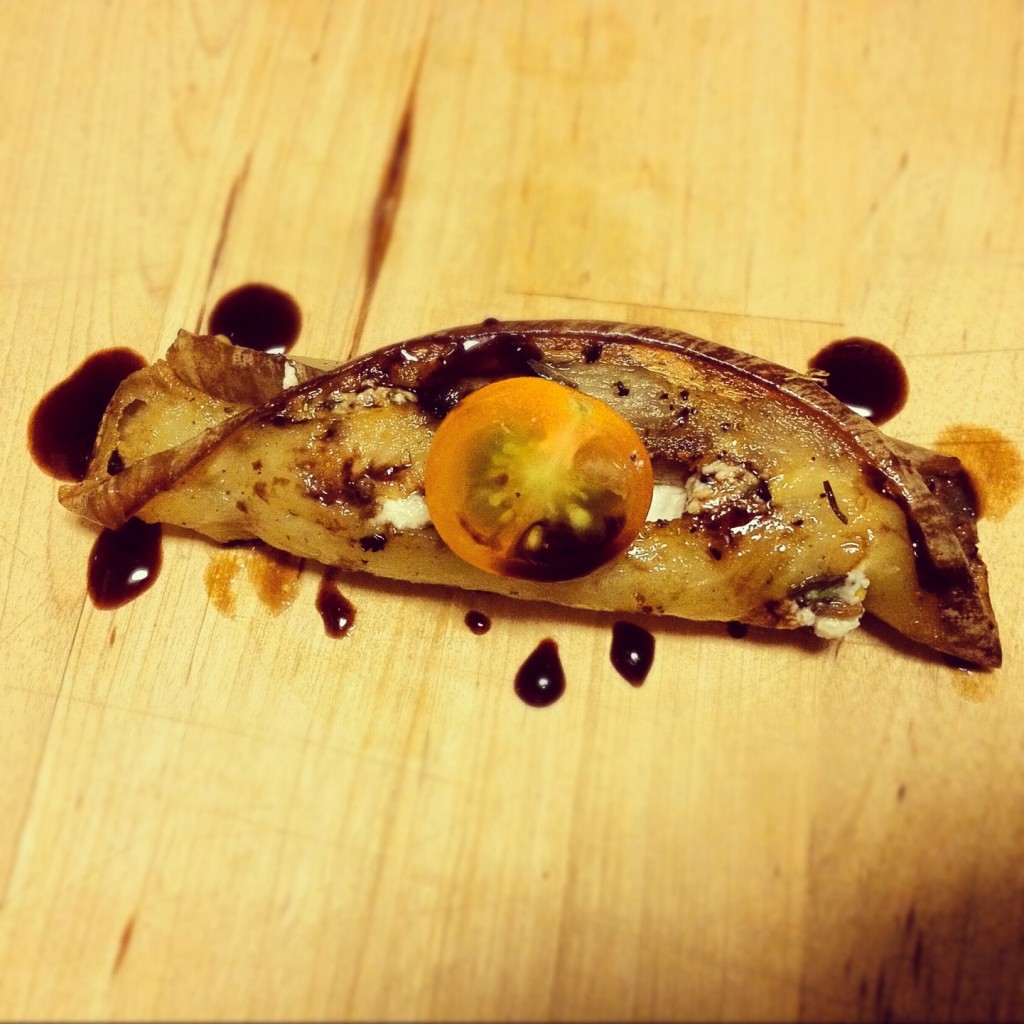 Eggplant Stuffed with Ricotta
Ingredients:
2 medium eggplant
8 ounces fresh ricotta
2 lemons, zested
10 – 12 large basil leaves
1 – 2 tablespoons Herbes de Provence
1 teaspoon dried oregano
extra virgin olive oil
salt and freshly ground black pepper
cherry tomatoes
good quality aged balsamic vinegar
Steps:
Wash the eggplant and remove the stems. Make sure you have a good, sharp knife on hand otherwise eggplant skin can be challenging to get through. Slice the eggplant on an angle into thin disks, about 1/4 of an inch. You don't want the slices too thin, or they'll burn. On the other hand, if the slices are too thick they will not bend enough to wrap around the cheese.
Place eggplant slices in a single layer in a sheet tray or baking dish. Drizzle some olive oil over the eggplant and sprinkle lightly with salt, pepper, and Herbes de Provence. Flip the eggplant over and repeat on the other side. You could lay all the eggplant out in a single layer and do this if you have the space. However, my tiny kitchen doesn't allow for this. In this case, layer another single layer of eggplant slices on top of the first and season both sides just as you did the first time. Continue until all the eggplant is seasoned.
Note: Eggplant is extremely absorbant, so don't be worried that you're using too much olive oil to marinate and season them. Once cooked, we'll drain off some of the excess oil. 
Heat a large saute pan or flat griddle over medium heat with just enough olive oil to coat. Once hot, add the eggplant in a single layer. Let fry, undisturbed for a few minutes. Once lightly golden brown on the bottom, flip over and cook a few minutes more. Once browned on the other side, remove from pan and transfer to a plate lined with a paper towel to absorb some of the extra oil. Continue cooking all the eggplant in single layers until all is cooked. Set aside to cool.
While the eggplant is cooling, make the ricotta filling. Zest the lemons and finely chop the basil. In a medium bowl, combine the ricotta, lemon zest, basil, oregano, and salt and pepper to taste. Stir together until combined.
To fill the eggplant, spoon about a teaspoon onto each cooked eggplant disk and spread in a straight line. Roll the eggplant around the cheese, forming a cylinder. Arrange the rolled eggplant pieces on a serving dish. Top each with a sliced cherry tomato and drizzle the platter with balsamic vinegar.
Variation:
Top a mixed green salad with these eggplant rolls and sliced cherry tomatoes.