Here it is! Mission Kitchen's inaugural blog post! And what could be more appropriate for the first post than starting with the first meal of the day? That's right, my all time favorite 'food group': breakfast! Although I love all kinds of breakfast food, I do have a special place in my heart stomach for pancakes.
This recipe comes from the need to make pancakes without having milk on hand. I don't really drink milk on it's own, but will have small amounts on hand to put into coffee. So you can imagine my frustration one morning when, craving pancakes, I discovered no milk in the fridge! I instead created this recipe using yogurt; and I have to say, I much prefer this version! There's just something about the lactic tang and creamy texture of yogurt that gives these pancakes a little something special.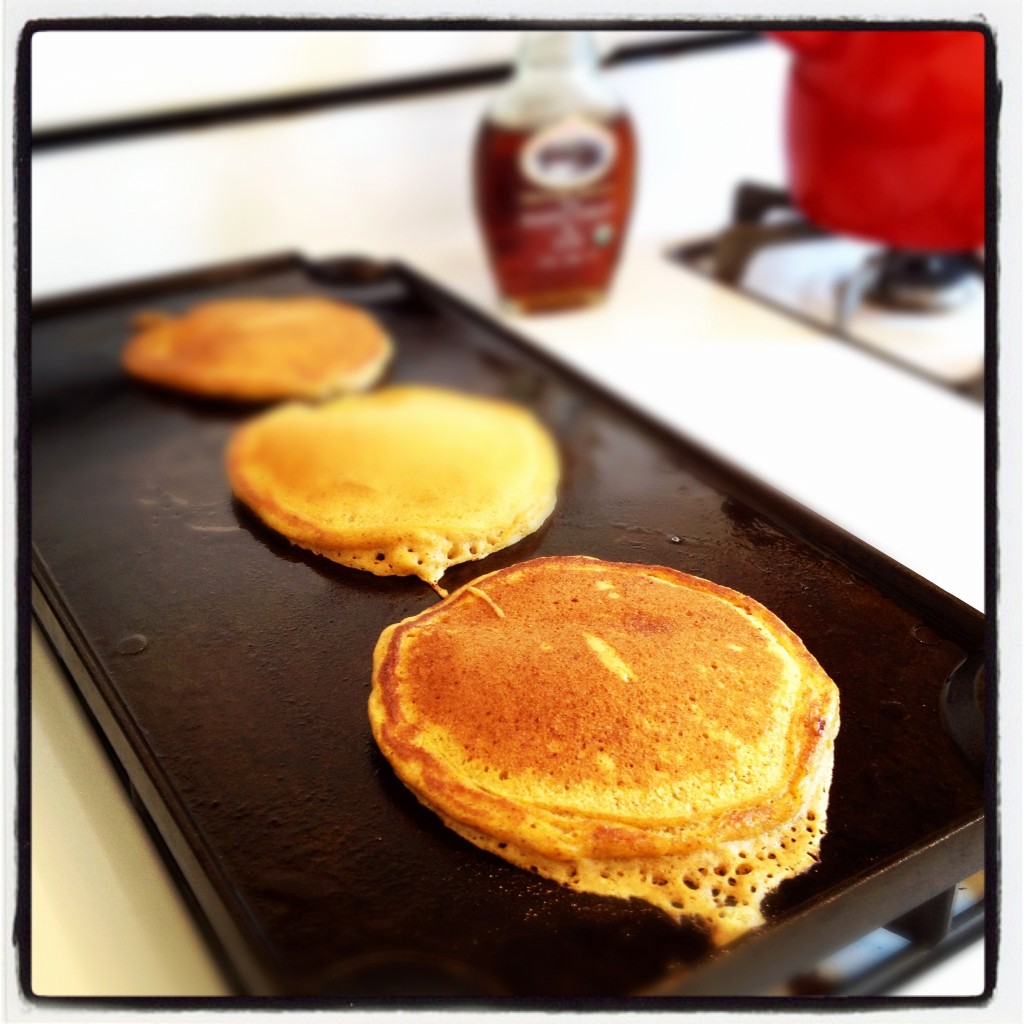 These couldn't be easier to make and there are countless variations to what you can add to these pancakes, although this photo shows them with bananas hidden inside.
Yogurt Pancakes
Serves 4
Ingredients:
1 cup white all purpose flour
1 cup whole wheat flour
5 tablespoons sugar
2 teaspoons baking powder
1 teaspoon baking soda
1/2 teaspoon salt
4 eggs
1 cup whole milk yogurt
1 teaspoon vanilla extract
1 cup water
4 tablespoons butter, melted
extra butter and/or canola for greasing the pan
Steps:
In a medium mixing bowl, combine the flours, sugar, baking powder, baking soda, and salt. Whisk together to combine. In a separate bowl crack the eggs and add the yogurt, vanilla, water, and melted butter. Whisk together these wet ingredients. Pour the wet ingredients into the dry and whisk together until smooth.
Heat oven to 200° and place a sheet pan in the middle. Prepare a skillet or sauté pan by placing it over medium heat and adding a few tablespoons of butter. I'll sometimes combine some butter and a little canola oil to help prevent the butter from burning as quickly. Once the butter is melted and the pan is hot and coated, ladle 1/4 cup spoonfuls of batter onto the skillet. Immediately add any toppings (fresh berries!). Once the edges are set and small bubbles appear in the middle, flip and cook for just a few minutes more. When pancakes are done on the bottom, transfer to sheet pan in oven to keep warm while you cook the rest. Add a little more butter or oil between batches if necessary.
Serve with real maple syrup and enjoy!
Variations:
Sprinkle fresh berries of any kind on the uncooked side just after ladling onto skillet.
Add 1/2 cup canned pumkin and 1.5 teaspoons pumpkin pie spice to wet ingredients.
Add 1/2 cup applesauce and 1 teaspoon cinnamon to wet ingredients.
Stir coconut flakes into batter.
Add chocolate chips or nuts to batter.