Figs are magical fruit. They're basically inside out flowers, with their purple and white deliciously sticky interiors bearing hundreds of tiny seeds. I recently saw a documentary on how certain varieties of figs in Africa and Australia use a particular species of wasp to fertilize themselves.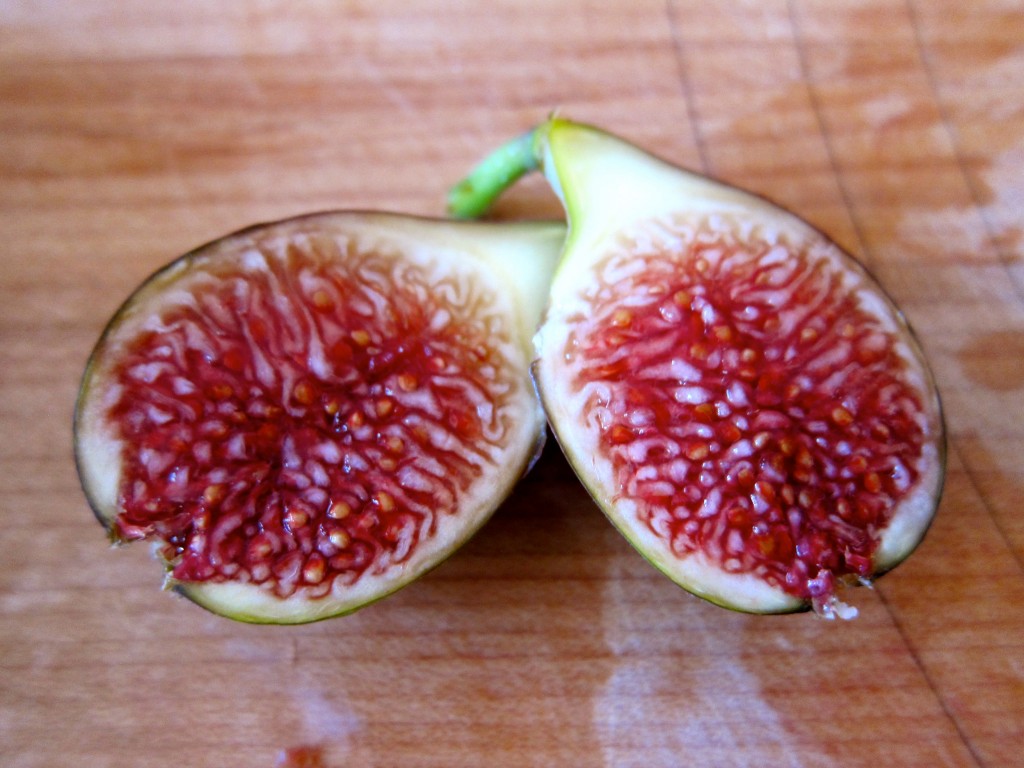 The wasps burrow their way into the fig, pollinating it from the inside, while at the same time laying eggs for a new generation of wasps. New female wasps then leave the fig, search for a new fruit to lay their eggs in, and are occasionally tricked into entering a female fig blossom which has no egg receptacles. As they enter, their wings are ripped off. Trapped inside, they successfully pollinate the fig allowing it to grow, but die inside as the fig releases enzymes to digest it. Crazy! While this documentary is not the most appetizing to watch, it certainly makes you appreciate the complexity of nature! And if this whole idea does gross you out, don't worry, the varieties of figs we eat are not pollinated in this way.
This salad concentrates the delicious sweet quality of figs by roasting them. Figs and blue cheese are a classic combination and the sweet quality of the figs contrasts amazingly with the salty and tangy blue cheese. I used Stilton, which is one of my favorite blue cheeses from England. It's on the milder side in terms of blues with buttery and sweet flavors. This salad is hearty enough to stand alone as a meal or is great as a pre-dinner course.
—
Roasted Fig Salad
Serves 4 – 6
Ingredients:
2 pints fresh figs
1.5 tablespoons extra virgin olive oil
1 pound fresh mixed salad greens
6 ounces blue cheese, like Stilton, crumbled
1 cup whole almonds
1 prepared recipe Shallot Mustard Vinaigrette
salt and freshly ground black pepper
Steps:
Preheat the oven to 400°.
Wash the figs, trim off the stems, and cut into quarters. Spread them onto a baking sheet, drizzle them with the olive oil, and season lightly with salt and pepper. Toss them gently to coat evenly and then spread them out on the sheet in a single layer. Transfer the figs to the oven and bake until shriveled and lightly browned around the edges, about 45 – 60 minutes. About halfway through the baking time, give them a quick stir to ensure even cooking.
Remove the figs from the oven, and let cool.
Turn the oven down to 350°. Place the almonds on a tray and bake for about 10 – 12 minutes, tossing halfway through. They should be golden brown and aromatic when done.
Remove the almonds from the oven and let cool for a few minutes. Once they're cool enough to handle, roughly chop them.
Wash and dry the salad greens, and put in a serving bowl. Crumble up the blue cheese and sprinkle over the salad. Add the almonds and the roasted figs. Dress lightly with the Shallot Mustard Vinaigrette and toss everything to coat. I like to use just enough dressing to coat the salad, and allow my guests to add more as desired.
Serve with the extra dressing alongside and enjoy!