Spring and summer in San Francisco sort of flow right into one another. The temperature doesn't really change much, it only gets more foggy and windy in June and July. Because of our weird 'seasons' I'll often see things like spring onions and chard at the farmer's markets well into the summer. I had a bunch of both of these in our fridge last night so this gratin is what came of them.
Feel free to substitue other greens for the chard, like spinach or kale, just make sure they're well dried after washing. And see that you have conquered (or at least read the instructions for) making my easy béchamel sauce. This is a hearty dish! But hey it has greens in it so it's healthy, right?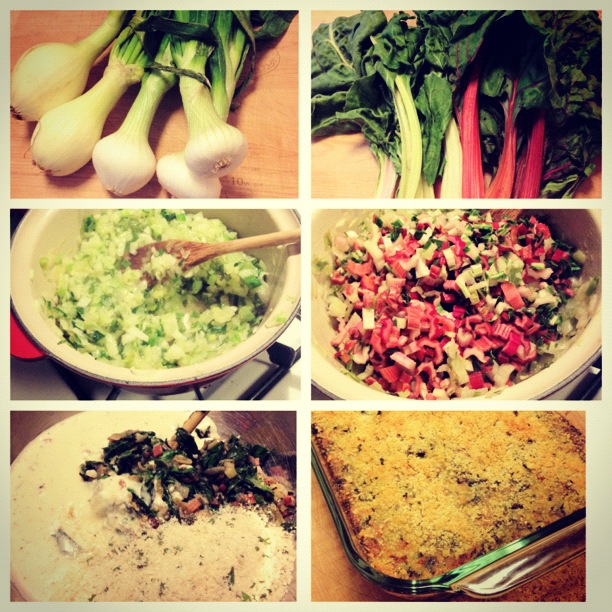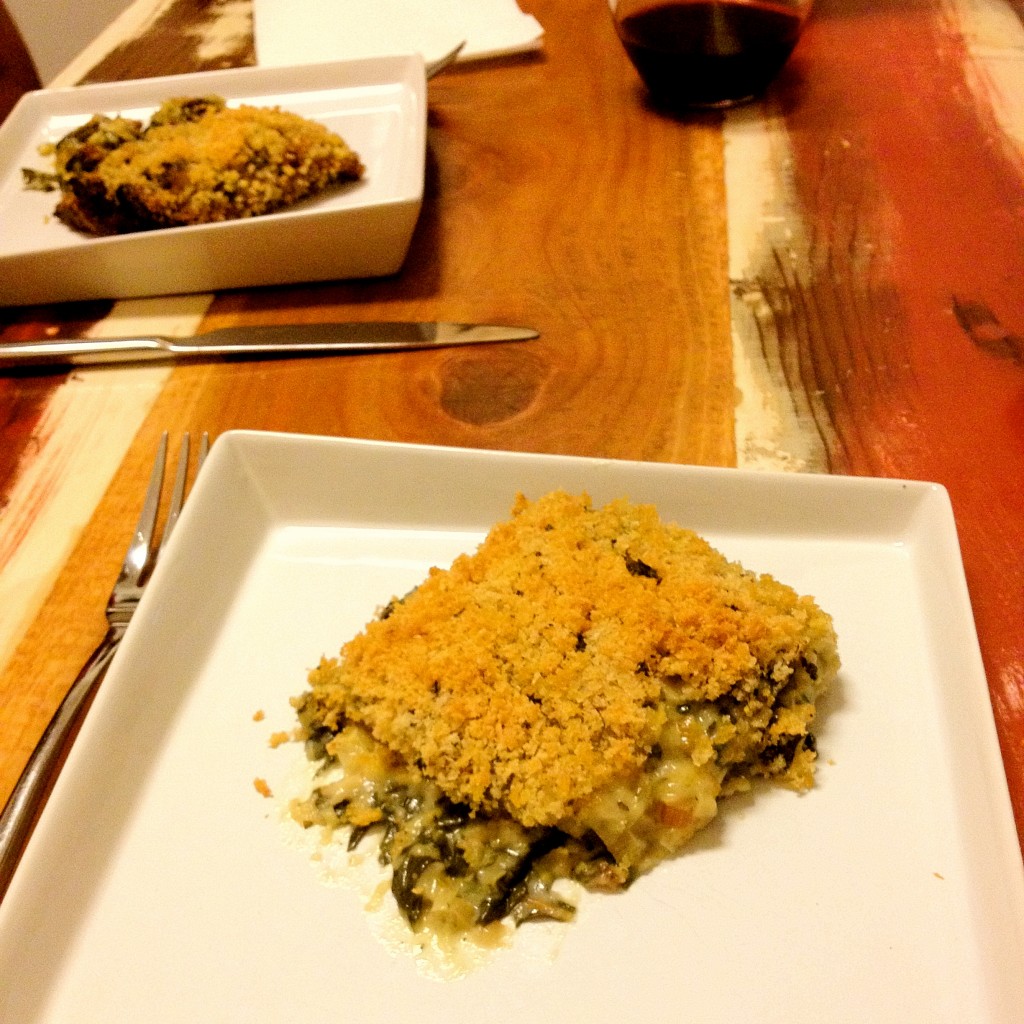 Chard and Caramelized Spring Onion Gratin
Serves 4
Ingredients:
2 tablespoons extra virgin olive oil
1.5 pounds spring onions, finely chopped
1 pound swiss chard
3 cloves garlic, finely chopped
1.5 cups breadcrumbs
handfull of basil leaves, chopped
3-4 ounces parmigiano reggiano cheese, grated
3-4 ounces fresh goat cheese
salt and pepper
1 recipe prepared béchamel sauce
Steps:
Preheat oven to 400° and set rack in middle.
Set a pan over low heat with 2 tablespoons EVOO. Finely chop the spring onions, green stems and all, and add to the pan. Keep these on low heat, stirring occasionally to caramelize. Be patient, caramelizing onions takes a while (30 – 40 minutes)! But believe me, real caramelized onions, not burnt ones, are worth the wait.
While the onions are cooking, wash and de-stem the chard. Easy trick: hold on the the stem with one hand while pulling the leaves off all at once starting at the base and ripping upward; the leaves should come right off in once piece! Dice the stems and set aside. Roughly chop up the chard leaves and run through a salad spinner to get rid of excess moisture and set aside.
While the onions are (still!) cooking, mix together the breadcrumbs, basil, and parmigiano cheese and set aside.
While the onions are finishing caramelizing, start the béchamel sauce. Once you add the milk to the flour and butter, stir in the goat cheese as well.
Once the onions are caramelized, stir in the diced chard stems and season with salt and pepper. Cook for a few minutes to soften the stems. Add the chard leaves and garlic and season with salt and pepper. Cook until the leaves have wilted.
In a large bowl, combine the cooked chard and onion mixture, all of the prepared béchemel, and half of the breadcrumbs. Stir to combine. Pour entire mixture into a 9×13 pan. Evenly sprinkle remaining breadcrumbs over the top and put in the oven. Cook until bubbly and the breadcrumbs are lightly toasted on top – about 40 minutes. If the breadcrumbs are not browning on top, throw the pan under the broiler for a couple of minutes.
Once cooked, remove from oven and let sit at room temperature for about 5 minutes before serving.